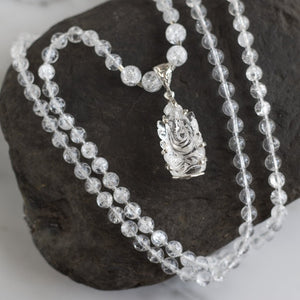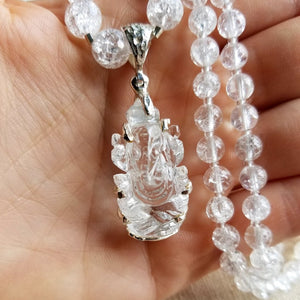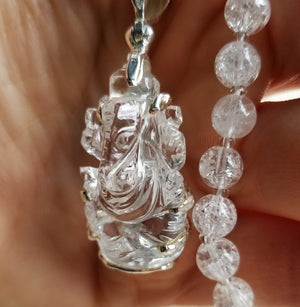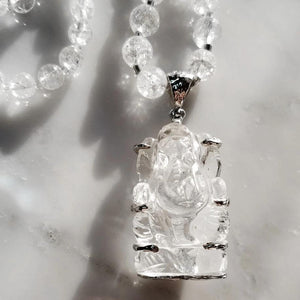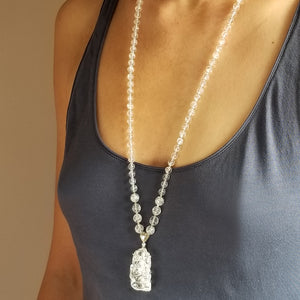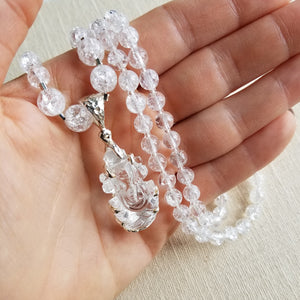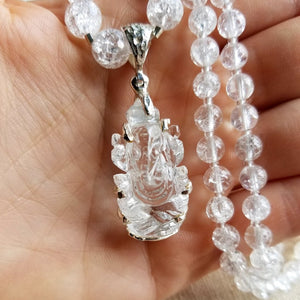 Quartz Crystal Ganesh Mala
Ganesh is the widely beloved elephant headed god in Hinduism.  He is known as the remover of obstacles, both mental and energetic. We invoke him to allow our journeys in life to go smoothly, for our paths to be clear, for our minds to be focused and for our resolve to be steadfast.  This mala is great to use for mantra repetition during meditation to keep your internal vibration aligned to your highest power.
Each unique crystal Ganesh is completely hand carved out of clear quartz crystal and is set into a sterling silver prong setting. There are 108 beads, the traditional number for mantra repetition, with one of them being the Anahata icosahedron shaped metal bead. The total length around is 17 3/4" long.  The beads are 6mm and 8mm in size, and because these are natural materials the sizes and shapes will vary.
I make each of these to order, with right intention after a period of meditation.  Because it is quartz crystal you can program it to your own intention, mantra or phrase of your choice to truly make it your own.  Please allow a few extra days for shipping.