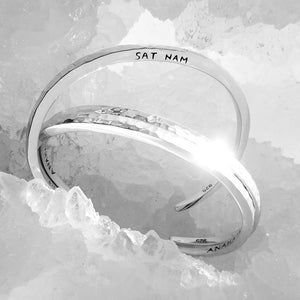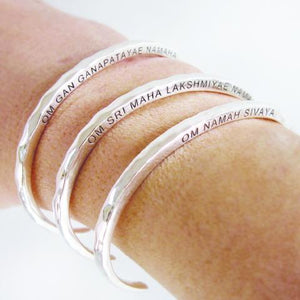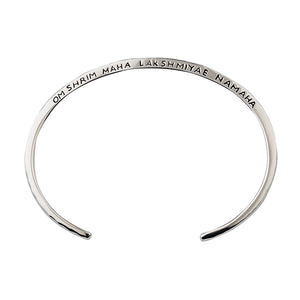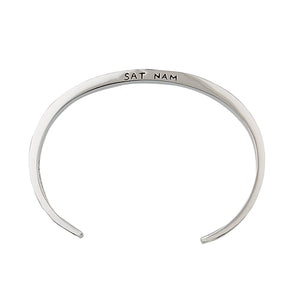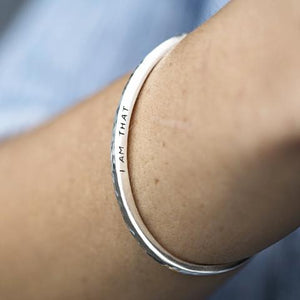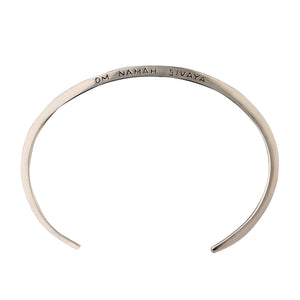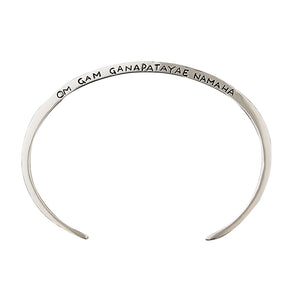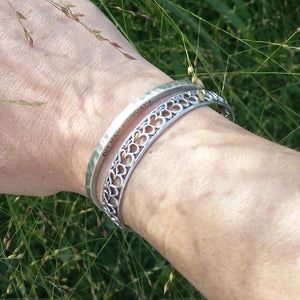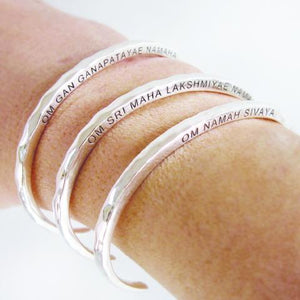 Mantra Cuffs
A mantra is a phrase or vibration that takes us to a higher state of consciousness when repeated in meditation.  It acts as a tool for focusing our minds so we can get beyond the chatter to the deeper knowing that is within us.  This knowing is a stillness that reveals our unity with all of life.  It allows us to see our greater purpose in this life, and that the power to achieve anything we wish to manifest is already within us.  
Repetition of a mantra opens up your heart to the fullest meaning of that mantra and invites all its powers into your life.  
We offer the traditional Sanskrit mantras:
Om namah Sivaya - Praise to lord Siva, the destroyer of our egos and the supreme yogi
Om gam Ganapatayae namaha - Salutations to lord Ganesh, the remover of obstacles
Om srim maha Lakshmiyae namaha - praise to Lakshmi, the mighty goddess of wealth and prosperity
I am That - this is the supreme mantra that destroys the ego and unifies us with the absolute consciousness
Sat Nam - the literal translation is 'true identity' of your soul.
If you need help selecting a mantra for yourself just email me and I can offer some guidance  om@anahatapath.com
The cuffs are beautifully hand made in solid sterling silver in a sustainable workshop in Bali whose artisans infuse each piece with devotion and right intention.  The top of the cuff has a hammered texture and the mantra is engraved on the side where it's discreet and personal.  Use it as a reminder to your yourself throughout your day of what is most important in your life.  You will quickly notice a renewed flow of energy.
Each cuff is 2.5" wide and adjustable to fit most wrist sizes.